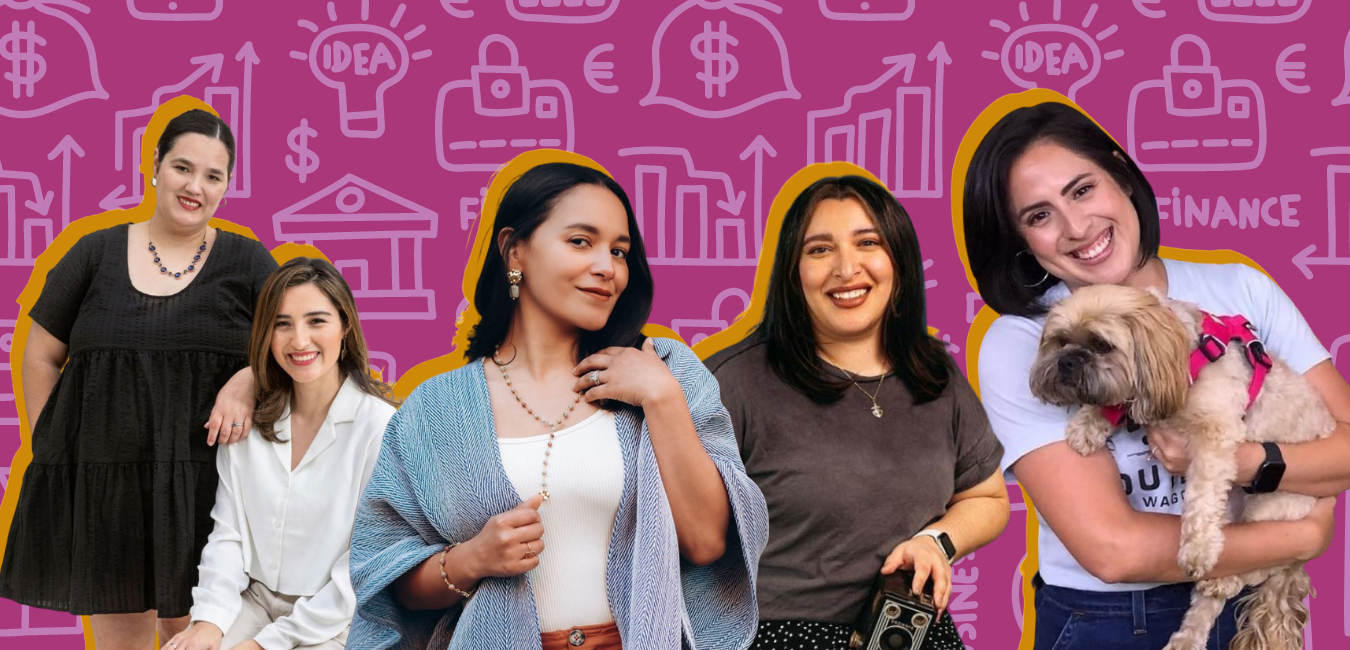 10 Mujer Entrepreneurs We Admire
Saludos amigas! In honor of Entrepreneur Day we have compiled a list of some of the many women we admire. These women have built their empire from the ground up, overcome challenges, and broken down barriers. Not only that but they are an inspiration for every mujer Latina. Ellas son un ejemplo de que "SÍ SE PUEDE."

1. Kelli from KelMari Designs
Founder of KelMari, a handcrafted jewelry, lifestyle, and collective brand inspired by her family's motherland's nature, history, and people, El Salvador. Kelli designs and partners with other small businesses to offer high‑quality pieces that celebrates El Salvador's culture.
2. Marina from Luna & Saya
Founder and designer of Luna & Saya, a handmade jewelry business. Marina began her business as a means to express herself artistically and find fulfillment to her life.
3. Cinthia from Cinphotos
Founder of Cinphotos. Cinthia is an award winning, luxury boudoir, portrait, and maternity professional photographer based in Dallas, Tx. Through her camera lens, she captures authenticity and the power in women.
4. Ana from Vida Bars
Founder of Vida Bars, a handmade shampoo and conditioner bar business. After seeing her daughter start to hate her beautiful curls, finding the curly girl method, and learning the amount of plastic bottles that's discarded every year in the US, Ana brought to life Vida Bars. Environment friendly and uniquely made for curly girls.
5. Cindy and Andrea from CocoAndré Chocolateir
Founders of CocoAndré Chocolateir, a Mexican‑American owned chocolate shop. Andrea and Cindy began their journey as entrepreneurs nearly 11 years ago after both having been laid‑off. Today, they are proud to have built a business that represents the heritage, culture, and story as Mexican‑American‑Texan mothers.
6. Aracely from CEL SAL Fragrances
Founder and maker of Cel Sal, a contemporary eco‑conscious home fragrance business. Hand‑poured in Dallas, TX by Aracely.
7. Sandra from Nopalera
Founder of Nopalera, a Mexican botanicals for bath and body brand. Sandra founded Nopalera to celebrate her culture, loud and proud and unapologetically.
8. Elena from Elena Saxton Consulting
Founder of Elena Saxton Consulting. After successfully growing her and her business partners' skincare brand to a 7 figure online boutique, she decided she wanted to travel and help artisans increase their online sales so they can make a living from it. 
9. Maricela from Southpaw Waggery
Founder of Southpaw Waggery, an all fur‑babies related business. Maricela's life changed 6 years ago after her fur‑baby "Wookie" wondered into her life off the streets of the Southside. Little did she know "Wookie" would lead her to create a space for all people to spoil their fur‑friends. 
10. Rocio and Diana from All For Ramon
Founders and designers of All for Ramon, a sustainable fashion brand. After witnessing firsthand the amount of waste fashion creates, the two sisters founded AFR on a mission to create eco‑conscious, modern effortless essentials to wear on repeat.