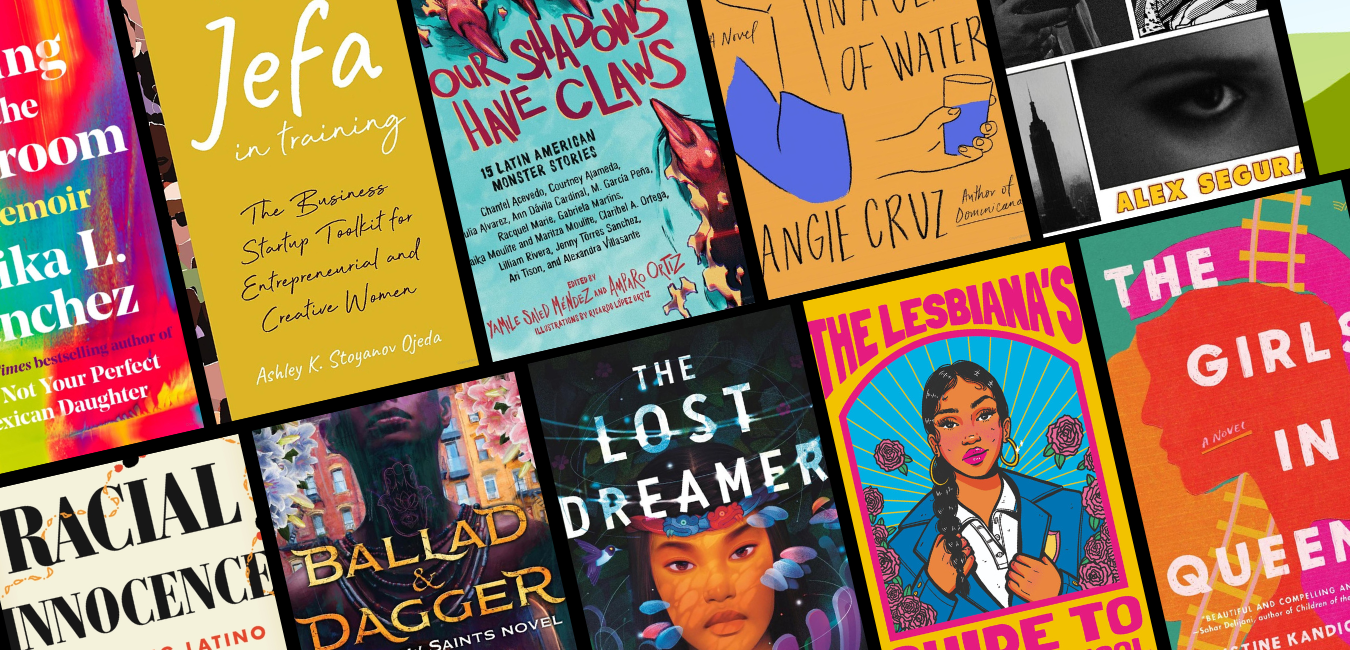 2022's Must Read Books by Latine Authors According to Book Papi
It feels as though 2022 flew by but the year is not over and for those who are looking forward to recharging during their holiday vacation, we wanted to give you a list of book recommendations to pick from. Cadena Collective reached out to Adrian (BookPapi), the owner of Golden Lab Bookshop, a Queens-based bookstore focused on diversity and inclusivity in literature, to get a list of his favorite 2022 reads by Latine authors. Check out Adrian's recommendations as well as his thoughts, and don't forget to support Golden Lab when making your purchases!
You Sound Like A White Girl by Julissa Arce Raya
Julissa Arce Raya's, You Sound Like a White Girl is an incredible look into all the aspects of how Latinx people are viewed in America and made to assimilate. These personal stories mixed with historical and data driven footnotes makes this book a 10/10.
The Girls In Queens by Christine Kandic Torres
Queens, New York is the most ethnically diverse area in the world. Kandic Torres' The Girls In Queens explores the story of two Latinas living there through the 90s. An important topic included is the bond of friends during childhood to adulthood. It also touches on sexual assault in romantic relationships, family and how it plays out in Latine culture.
Secret Identity by Alex Segura
During the 70s, the comic book industry wasn't thriving as it is today with movies, comics and merchandise galore. Alex Segura's Secret Identity explores the industry but with a murder mystery at the center of the novel, making this a unique noir mystery that I couldn't put down!
The Lost Dreamer by Lizz Huerta 

A debut fantasy written beautifully that builds a world where characters can "dream" to access a world where they can speak to spirits. With two incredible main characters, an ancient Mesoamerican setting and a showcase of strong women and young girls, Lizz Huerta's The Lost Dreamer is one of the best books of 2022.
Ballad & Dagger by Daniel José Older
Daniel José Older is a powerhouse in literature and he continues to prove that with this book, Ballad & Dagger. In this book, we follow a Caribbean community after they lose their island in Brooklyn. Covering global issues of colonialism, culture, language, and corruption while intertwining pirate characters, and the use of myths and powers, this is a must read for everyone. 
The Lesbiana's Guide to Catholic School by Sonora Reyes

Covering the topic of being the only Latina (Mexican) in a school full of white kids would be enough for a young adult novel. Added to the mix is the very real aspect of having to hide who she is because the main character in Sonora Reyes', The Lesbiana's Guide to Catholic School is queer and hiding it. This story is relatable, funny and incredibly moving. 


Our Shadows Have Claws: 15 Latin American Monster Stories by Amparo Ortiz and Yamile Saied Mendez
What's better than one horror story seeped in Latine mythology? Multiple stories that have zombies, vampires, cannibals and more! Our Shadows Have Claws by Amparo Ortiz and Yamile Saied Mendez includes 15 short stories that keep you at the edge of your seat while also giving you insight into more cultural mythology. 
Jefa in Training: The Business Startup Toolkit for Entrepreneurial and Creative Women by Ashley K. Stoyanov Ojeda

A well-written and descriptive step by step book on how to be your own Jefa. Ashley Stoyanov Ojeda's, Jefa in Training not only speaks from her own experience but supports other businesses through her guided book. Looking to start a new venture? This is the book for you!
Crying in the Bathroom: A Memoir by Erika Sánchez

From the author of the amazing
I Am Not Your Perfect Mexican Daughter
, Erika L. Sanchez delivers an honest and raw memoir about her life. If you enjoyed her first book, you will enjoy the deep dive into the author's life. Definitely recommend!
Racial Innocence: Unmasking Latino Anti-Black Bias and the Struggle for Equality by Tanya Katerí Hernández
Racial Innocence: Unmasking Latino Anti-Black Bias and the Struggle for Equality by Tanya Katerí Hernández is must read for everyone that identifies as Latine. This book uses cases and historical records to explain how although we are part of this community, there is still racism within us. Colorism and anti-Black notions in the community are still present and need to be explored and examined. This book has been the most helpful to me in understanding how we can do better as a community.  
How Not to Drown in A Glass of Water by Angie Cruz 

Angie Cruz wrote a masterpiece with a main character we have all known in our lives. She could be our mamá or abuela. A relatable and hilarious emotional story with an unreliable narrator,
How Not to Drown in a Glass of Water
is a must read. To elevate the story and bring it to life, I highly recommend listening to the audiobook which makes it an entirely different experience than the book itself.