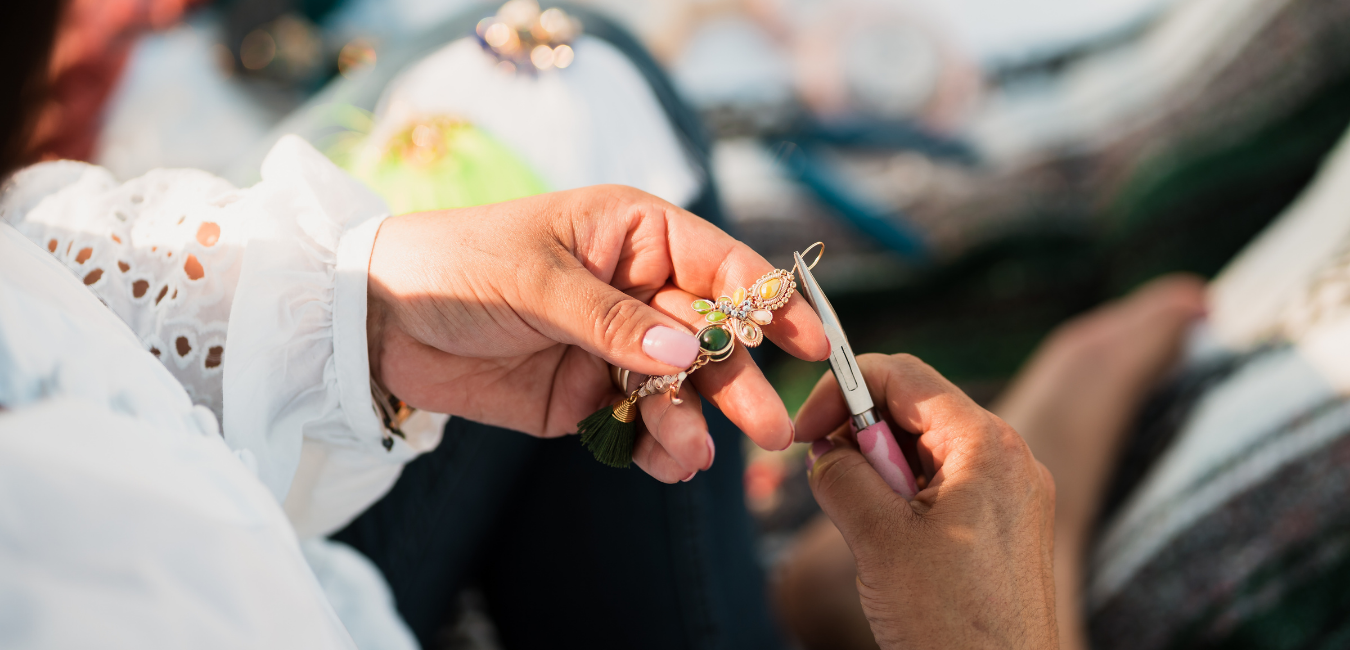 Cadena Collective : A Chain of Good Choices
How Cadena Collective has built its business model on stakeholder alignment
A question is looming in modern business: How does one create a business which remains committed to generating a positive social impact while achieving financial success? 
It starts with a secret sauce in how we build the business model. 
This answer came to me a few months ago while reading a Medium article written by Dustin Mix, Co-Founder of INVANTI. INVANTI is a start-up studio based out of South Bend, which uses entrepreneurship as an avenue to create scalable solutions to pressing problems in our country. Co-Founders Dustin Mix and Maria Gibbs research complex problems that have the potential to create innovative business solutions, and investigate them from many perspectives. Then, they recruit aspiring entrepreneurs -- with an intentional focus on women, Black, and Latinx individuals --and support them by providing the necessary resources to generate solutions and build companies. 
I had the pleasure of getting to know Dustin and Maria this year when they taught a course from our  summer semester, Entrepreneurial Insights. The two were invited back as guest speakers for our Social Entrepreneurship course, where we were assigned to read this piece, called Alignment: A Building Block for Business Models. 
The first word of the title? Alignment -- yes, that is the special sauce.
In the short 3 minute read, Dustin explains INVANTI's approach to building business models: Align all stakeholders behind achieving a common outcome, before the first dollar is ever spent. If it's not feasible, redesign your business model. This somewhat simple philosophy of alignment is the backbone to all of the ventures that INVANTI builds. It creates a model where financial success is directly related to the positive social impact that they create. Using alignment as a fundamental building block, Dustin suggests, helps avoid situations where stakeholder interests come into conflict with the bottom line. 
I found Dustin's article to be insightful and relevant for two main reasons. 
First, is that we see many current businesses make high stake, binary decisions between pursuing certain stakeholder interests or pursuing the bottom line, all the time. 
Facebook may be the first example that comes to mind, with their advertising business model that makes money by selling access to users' personal data to third parties. But a similar tension is apparent in many businesses throughout several industries. Think about the fundamental structure of how medical insurance companies make money. If the purpose of insurance is to protect their customers from financial loss, why do companies spend so much time, effort, and capital delaying and denying claims? Clearly, the tactics used by insurance companies to boost their bottom line has created a disconnect between their interest and those of policyholders. And let's not forget fast fashion... where pursuing the bottom line means continuing to exploit cheap labor while churning out tons of disposable apparel with a limited lifespan. 
If you think about it, almost all instances of what we consider to be corporate misdeeds or scandals can be traced back to this misalignment. Take the ExxonMobil oil spill, or Volkswagen rigging their emission tests. Whose interests were sacrificed, and whose were protected for the pursuit of profitability and growth? 
Second, Dustin's logic clearly highlights how we can avoid this binary in the first place. 
Especially for emerging businesses and aspiring entrepreneurs, Dustin makes an important point: These conflicts are not as difficult to predict as they might seem. In fact, if your stakeholders are not aligned behind a common outcome from day one, you can probably expect to run into this issue sooner or later. Not to say this is an easy task -- Dustin absolutely acknowledges that seeing these challenges is one thing and designing around them can be a whole other ball game. 
Business models begin with intentional alignment, and the rest follows. By thoroughly thinking through who the stakeholders are, and taking the time to understand whether their incentives and motivations can be aligned, we can create stable foundations for businesses to grow -- both financially and in their positive impacts. 
_______________________________________________________________________
In late April, I joined Cadena Collective as a digital media fellow, and one of the many reasons I'm so excited to work with this team is that their commitment to their mission could not be clearer in the way they handle business. While reading this piece, it occurred to me that, similar to the INVANTI co-founders, Cadena Collective founders Alejandra and May execute the art of business model alignment quite well. They too have created a system where more sales directly correlates to more positive impact, and I want to bring attention to exactly how they do it. 
So, who are Cadena Collective's stakeholders?
The three main stakeholder groups who affect, and are effected by the outcomes of this business are: employees, vendors, and customers. 
Employees 
Alejandra and May, the two woman team, who manage the day-to-day activities of the online marketplace. 
Vendors 
The 15 (and growing) female artisans based in Texas, Florida, and Mexico. These women use ethically sourced materials and craft handmade products -- ranging from jewelry, clothing, hats, soaps, candles, to chocolate -- which are sold on the Cadena Collective marketplace. 
Customers
The conscious consumers who purchase products from Cadena Collective. Many are drawn to the story of Cadena and its mission, the quality of the handcrafted goods, and how pieces on the site celebrate and reclaim Latinx culture. 
On what common outcome are these stakeholders aligned behind? 
These groups stand behind a common outcome, which is Cadena Collective's central mission: to empower female artisans by providing them with resources to help their businesses flourish. 
The story of the accidental birth of this business describes it best. One day, Alejandra was at a cookout when the  conversation turned to Lucina, a family friend, and the beautiful earrings that she makes.
While looking at the earrings, Alejandra realized, "There is so much talent here, but Lucina doesn't have the tools to run with her idea and build a business. I want to find a way to leverage my skills to solve this problem." From this simple conversation, Cadena Collective was born. 
From vendors' perspectives, partnering with Cadena Collective is a great opportunity because it means access to a larger market and additional resources (more on this below) to help their businesses flourish. As a result, this brand has attracted customers who care about this cause, and want to support and empower the women who create the vibrant, beautiful products which showcase Latin American culture. 
How does Cadena Collective's approach to business reflect this alignment? 
The alignment of stakeholder interests is reflected in three key aspects of Cadena Collective's business model.
First, is the nature of their partnerships with vendors. 
When artisans first learn about Cadena Collective -- whether it be through word of mouth or from a current vendor  -- and connect with Alejandra, their businesses are often very small and not yet established. For many online marketplaces, vendors must prove their profitability and success before they can sell on the site. 
These expectations are not the case at Cadena, since the goal is to empower female artisans who may traditionally face barriers in entrepreneurship, and help them to realize their full potential. Other platforms don't take artisans who don't have proven sales, but Alejandra recognizes that the local, undiscovered talent in her backyard in Dallas as well as from her home country, Mexico, are worth investing in. And, Alejandra isn't the only one who appreciates this talent; Cadena Collective's customers are drawn to the colorful handmade products which authentically and boldly reflect the beauty of Latin American culture. 
Helping artisans comes first and foremost, and this dynamic actually creates an incentive for Cadena Collective to work with businesses starting from ground zero; it is in these spaces where there is the greatest potential for creating impact. In addition, there is also no upfront cost for vendors to sell on the Cadena Collective marketplace. These upfront costs, which other platforms often charge, are a barrier to artisans who are in the early stages of their business. And on top of that, Alejandra provides artisans with small business consulting free of charge, because the individual success of each vendor is directly tied to the success of the whole Collective. These services include help with branding, social media marketing, finances, advice on setting price points, or any other tasks that a small business owner is typically confronted with. 
Finally, no part of the relationship involves the retailer trying to control or take ownership of its vendors. Alejandra says it best, "I am not interested in keeping brands to myself and hope they are so successful - my goal is for them to grow into other spaces." 
A fitting analogy: Cadena Collective does not look for fully blossomed trees to reap the benefits of the fruit. Rather, they intentionally identify promising but premature saplings, and provide them water, sunlight, and an ecosystem to help them flourish. They don't just harvest the end result, they plant, water, and nurture the people and businesses they work with. 
The second aspect of Cadena Collective's business model that reflects this alignment, lies in the details of their revenue stream. 
Cadena Collective operates on a consignment model, which charges either a fixed fee or a percentage of sales made on the site. However, unlike other marketplaces, Alejandra is able to ensure that her vendors get the largest margins possible while still remaining profitable on her end. 
She does this through mitigating costs: Cadena Collective doesn't have inventory on hand, which frees them from overhead costs required to store and hold additional goods. They also don't buy goods in wholesale, saving them from paying large sums of money upfront.
Creating a business model that ensures a fair amount of money from sales returns to artisans also helps to keep local economies thriving: the money that goes into artisans' pockets is spent on locally sourced materials, and is reinvested into their businesses to expand product lines and take bigger risks. 
This revenue structure has also helped create deep customer relationships built on trust. Customers can continue to purchase confidently, knowing that their purchases help to empower artisans and support local economies. Inevitably, this transparency has helped create a loyal customer base of individuals who come back to support Cadena Collective time and time again. 
Third, alignment is reflected in the way that Cadena Collective reinvests in their artisans. 
Cadena Collective reinvests -- time, money, and resources -- into their artisans. In addition to the weekly hours spent consulting with individual artisans to help them build their brand, Alejandra has provided an artisan with an in-house microloan to help expand her product line. Other forms of reinvestment include bringing on additional team members, like myself, to create content which brings further visibility to each artisan and their story. 
From a business perspective, this decision has paid off well, because the low vendor churn rate -- no vendor has left the Collective thus far -- means that less money needs to be spent on acquiring and reacquiring vendors. 
This circular process of reinvestment lies at the cornerstone of this business:
The system wouldn't be complete without each part, which shows how directly the financial success of Cadena Collective is aligned with the success of each artisan. 
In Conclusion...
If stakeholder alignment is executed properly, what's good for the bottom line is also what creates long-term value for all of the stakeholders involved. 
In the words of Alejandra, a cadena is "a chain of good choices that can impact our local economies and ultimately change the way in which shopping for artisanal goods is done." Similar to the building block analogy that Dustin uses, stakeholder alignment is the first chain for Cadena Collective. 
Beautiful, authentic, detail-oriented.
Those are the three words that I would use to describe my new beaded parrot earrings from Cadena Collective, handmade by Lucina of Motcy Designs. Knowing that this authenticity doesn't just end at the product, but rather trickles down all the way to the foundation of Cadena Collective is what makes me especially proud to wear them. These three words could also be used to describe the way Alejandra has self-navigated through the world of business to create an intentional space to celebrate and reclaim Latin American culture. I'm so excited to be part of this process, and I'm looking forward to seeing how we continue to build on this chain of good choices. 
Turns out that my new earrings pair well with a beautiful Chicago golden hour!
Risa Takenaka is a freelance blogger who has been working with Cadena Collective since April to
create content that reflects elements of Latin American culture and community, which are central to Cadena Collective's brand identity.