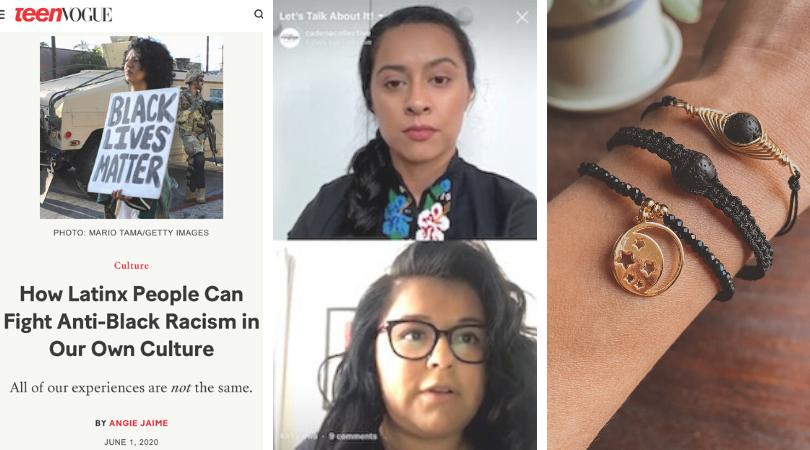 Fighting Anti-Black Racism in the non-Black Latinx Community
How can we work to embrace intersectional solidarity between Latinx and Black/Afro Latino communities, and speak about fighting anti-Black sentiments to our inner circles -- to our primos, parents, and tios?
Author's note: While I use the words 'our' and 'we' throughout this article, it is not to speak on behalf of the Latinx experience, but as a way to best communicate the perspectives of Angie and Alejandra. 
On the 10th day of protests around the country in the ongoing fight for racial justice, Cadena Collective took to its own platform to create space for a conversation especially relevant to the Cadena community: How can we work to embrace intersectional solidarity between Latinx and Black/Afro Latino communities, and speak about fighting anti-Black sentiments to our inner circles -- to our primos, parents, and tios? 
Freelance journalist Angie Jaime, and her recent op-ed published in Teen Vogue titled: How Latinx People Can Fight Anti-Black Racism in Our Own Culture acted as a starting point for the conversation, and we were lucky enough to have Angie join us on Instagram Live. Here's a recap of the candid dialogue between her and Alejandra, which centered around the four points emphasized in the op-ed, and which wrapped up with a Q&A from viewers' questions. 
Alejandra and Angie began the conversation by bringing attention to the layered nuances of how the Latinx community is defined -- an ethnic, amorphous definition that's constantly changing, shaped by historical contexts such as the African diaspora, the indegenous community, European colonization, as well as the modern influences of immigration reform -- and how this complexity creates unique challenges in engaging in anti-Black racism in these communities.
"I don't pretend to be the final word on any of this, but you have to start by starting," said Angie, as she dove into the first point of the op-ed: Interrogate your weaknesses.
A meaningful first step in dismantling anti-Black sentiments in Latinx spaces, she explains, begins with actively asking ourselves tough questions that force us to grapple with hard-to-face-truths. These include reflecting on instances of racism that we may have let slide for the sake of "not causing trouble" with family members, or the seriousness in which we consider the distinctions between the lived experiences of Latinx and Black/Afro-Latino folks, especially in the context of racism in the United States. 
"This is not to negate our personal experiences; don't put immigration reform on hold but put the idea of anti-Black state sanctioned violence in your mind as well; we all walk around the world in different bodies, and anti-Black racism is so fueled by the experience of walking around in a Black body." 
Angie's next point: When engaging with Black art, music, and culture, understand its history and context. As someone who does admittedly find themselves singing along mindlessly to hip hop music without paying much attention to its context, I really needed to hear this. 
While hip hop represents only one small piece of Black culture embedded in our society, it is one that I, and many others, encounter daily. Hip hop presents its listeners with a learning opportunity because it can serve as a window into one dimension of the Black experience. It is therefore our responsibility to engage not only with its beats and lyrics, but with its rich history -- one that has its roots in the Bronx, and is inextricably intertwined with Carribean and Afro Latino influences. We live in a country where Black Americans have to protest to be treated with basic dignity. We cannot continue adding to this pain by appropriating their culture on a daily basis. 
One of the first comments Angie made on this IG Live was an acknowledgement that her op-ed piece was made possible by previous and ongoing conversations with Dani Kwateng-Clark, director and of Culture and Entertainment at Teen Vogue. I found her public expression of gratitude towards working with a black editor, especially in the media space, a prime example of her third point: When you can, center and elevate Black voices.
She went on to incorporate this notion into a clear call for action to the Latinx community: "Elevating black voices means going to the vast wealth of research that has already been compiled for you on the Black experience, and anti-Black racism. The burden of this work has traditionally fallen on our black peers; we want to center their experiences, but we can further use our voices to distribute that work to our communities." 
Alejandra also provided valuable insight from her past professional experiences, where she noticed "Black voices are disproportionately interrupted and shushed," and emphasized the importance of "practice noticing this and use your platform of privilege to intervene when you see this happening."  
Throughout a few minutes of technical difficulties, Alejandra took the time to ask the audience, "What does centering Black voices mean to y'all?" 
Giving credit where it's due, passing the mic, and amplifying Black voices in the workplace. As I get ready to start a full time job at the end of the month, these are some conscious actions that I hold myself accountable to following. 
Finally, Angie addressed her last point: While our experiences are linked, anti-Black racism is an urgent crisis.
I found this statement so powerful, because it emphasizes the shared pain of colonial violence endured by Latinx, indegenous, and Black people while also calling attention to the resulting differences of these oppressions, namely the immediate and acute dangers of being a Black American today. 
"The urgency on black issues does not erase our own struggles related to immigration status, poverty, further complicated by our own diverse families - grandparents who may be indigenous, Afro Latino, European. Our experiences may be linked, but life in America for Black Americans is vastly different from the rest of us -- the struggle Black people are presented with every day are critically urgent, a life and death scenario, sometimes not even stepping outside the door in the case of Breonna Taylor." 
Listening to Angie and Alejandra's dialogue spurred some personal reflection for me, and I too am feeling the need to confront my own Asian American identity and educate myself on the history of Asian-Black race relations. Only then, will I have the proper tools to fight anti-Black racism to the best of my ability and successfully navigate these topics with my own family. 
I'm so appreciative of conversations like these, which open our eyes to the complexity of racism and help us move away from dangerous and monolithic views that label it a Black-White issue. Intersectional solidarity is a call to create space that makes room for multicultural narratives, shared struggles, and unique lived experiences across several identities. It's a necessary vehicle to dismantle the multiple interacting systems of oppression we see in our country and I couldn't be prouder of the fact that Cadena Collective is actively working to create that space.