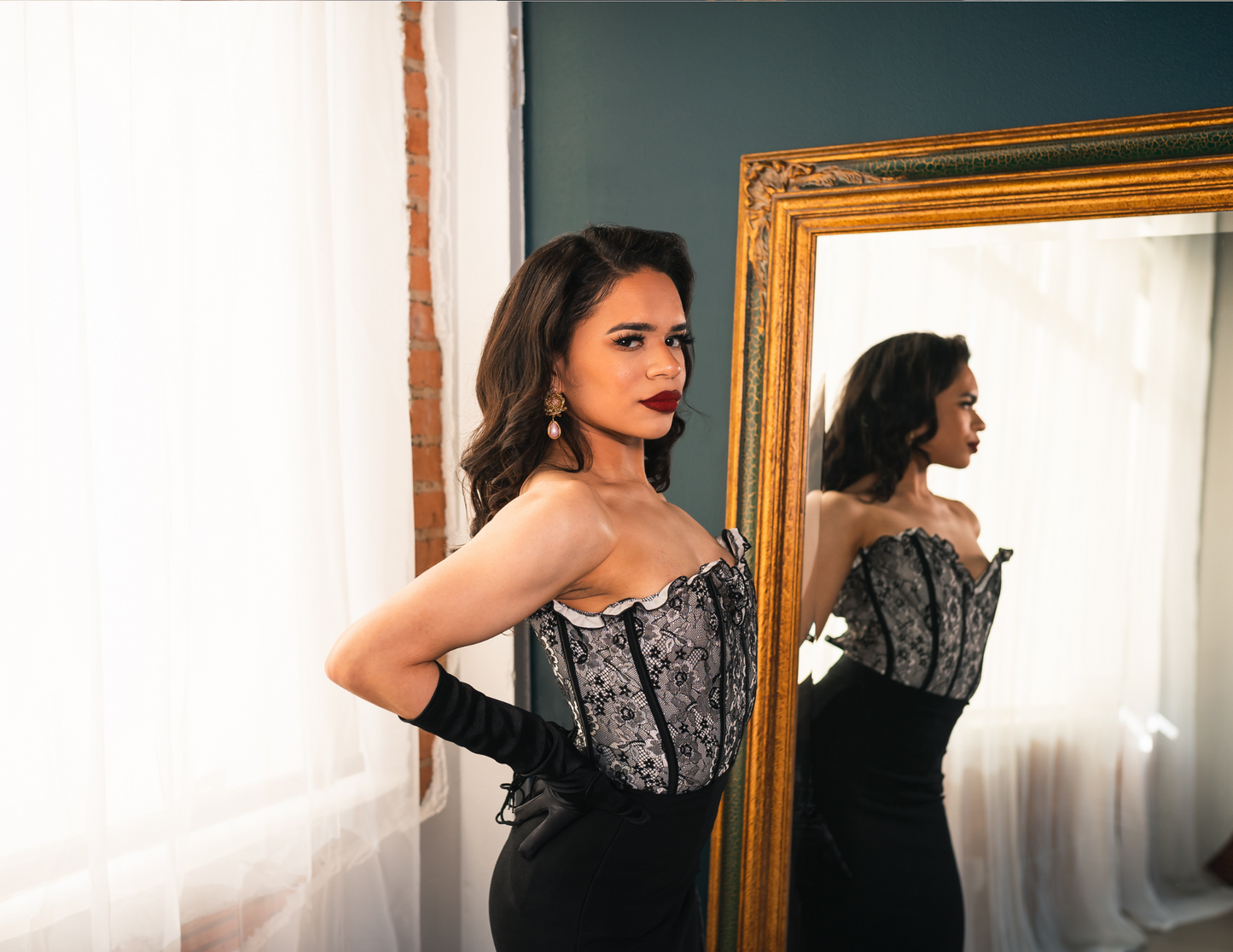 Resilient Women: La Doña, María de los Ángeles Félix
Perhaps one of Mexico's most iconic figures is "La Doña", otherwise known as María Félix. Octavio Paz wrote, "María was born twice: her parents begat her, and she later invented herself". María de los Ángeles Félix was born on April 8, 1914 in Álamos, Sonora to Bernardo Félix Flores, a military officer, and Josefina Güereña Rosa.
Earlier this year, my sister and I spoke about bringing to life a campaign that honored women. We centered women like our mother, our tias, our abuelas and the many women like them who have come before us and paved the way. We knew that we wanted to highlight women who have all been presented with many challenges but through it all had remained resilient.
When it came down to putting together a campaign, we decided to recreate images of resilient women and to shared their stories. As you read through the stories of the resilient women we selected, we hope that they inspire you and serve as a mirror and reminder of the strength you possess. Feel free to share these stories and support our shop, Cadena Collective. We are able to do this work because of your continued support. THANK YOU!


MARÍA DE LOS ÁNGELES FÉLIX
Perhaps one of Mexico's most iconic figures is "La Doña", otherwise known as María Félix. Octavio Paz wrote, "María was born twice: her parents begat her, and she later invented herself." María de los Ángeles Félix was born on April 8, 1914 in Álamos, Sonora to Bernardo Félix Flores, a military officer, and Josefina Güereña Rosa. María was one of eleven siblings and got along best with her brothers. It was said that she did not carry on a good relationship with her sisters, and it was due to her disdain for "girly" things. She once mentioned that her sisters only wanted dolls and church, something far from her interests that included horseback riding. Even though she was a tomboy at heart, her beauty captivated many at a young age, and it was said that she was the most beautiful of all her siblings. Her father found her to be an enigma for she was headstrong, outspoken, and far from docile. At a time where men had the final say, María never let her father have the last word and would continuously go toe to toe with him. Her only comfort in her home was her brother, Pablo. Her parents found their relationship to be extremely close and even suspected an immoral relationship between them. In order to separate the two, they sent away Pablo to military school where he tragically died.

María was furious about this decision she considered a betrayal, and almost in retaliation, she got married at the young age of 16 against her parent's wishes. Her husband, Enrique Alvarez, controlled her and wanted to keep her beauty out of a sight from others. It was said that his jealously drove him to keep her confined to a room and that his only pre-approved public activity included going to the theater. Even then, he'd make sure they'd arrive and leave when it was dark. It wasn't until she had her first child at the age of 20 that she found solace in life. Unfortunately, her misery would go on for years until she found out of a betrayal. It was said that María found out he had been diagnosed with a venereal disease and this revealed his longtime betrayal. Divorce was imminent and to avoid gossip she left for Mexico City where unknowingly, her future awaited.
It was the year 1940, and as María made her way through the city her beauty struck a bystander that would change her life forever. Fernando Palacios was a director at the time and approached her and asked her if she'd like to be a part of the Mexican cinema. She once said in an interview that she didn't like how a stranger came up to ask her this, especially based on her physicality. It took some convincing on Palacios, but eventually, she allowed an introduction to the Mexican cinema scene. Early on, María was given the opportunity to launch her career in Hollywood, but she quickly turned this down and said she'd prefer to start it in her home country, Mexico. She landed her first leading role in El Peñón de las Ánimas, where she'd work with Jorge Negrete. Unfortunately, he was bitter about the casting because his girlfriend at the time, Gloria Marin, did not get the part. He found her to be arrogant, and far too opinionated for someone whose career had just begun. Their relationship was contentious, and it was even said that during a kissing scene María bit his lips hard.


María knew her worth from the beginning and declined small parts in films or any foreign film that would place her in stereotypical roles. This would pay off, for she was selective and this would lead her to be cast for the role of "Dona Barbara", a role that would influence her personally and the rest of her career. She would go on to collaborate with the director Fernando de Fuentes in similar films that included femme fatale roles, along with her beauty and powerful voice. Because of these, María once said she became "the number one enemy of Mexican family morals." As time went on, she continued to pursue her career in more serious films. In 1945, she married Agustin Lara who composed many songs about her including the famous "Maria Bonita". Eventually, their marriage came to an end due to Lara's violent, and jealous tendencies. In 1948, she caught the attention of Cesáreo González, a Spanish film producer and for the next couple of years, her focus shifted to European films.


Still, Hollywood continued to offer her roles of highly stereotypical Mexican or Native American women and time and time again, she refused to portray these characters. Her career in the European industry included films in Spain, Italy, and France. Upon her return to Mexico, María found herself in an unexpected romance with Jorge Negrete, the man she had clashed with years ago. In 1952 they officially married, in what was known at the times as the wedding of the century, and it was broadcasted by radio throughout Latin America. Unfortunately, their union was short lived as Negrete died less than a year in 1953. Even that day, the press raised a scandal when María attended the funeral in pants. The heartbreak and scandal once again caused her to seek refuge in Europe.


Upon her return from Europe in the 1950s, Maria starred in many films about the Mexican Revolution. During this time, her work set her up to be one of the most prolific actresses of her time. Eventually, her roles decreased in number making her role in the telenovela La Constitución in 1971 the last. In 1956, Maria married Alexander Berger, a banker. The following year they were expecting a child but unfortunately, she suffered a miscarriage when she experienced an accident while filming. In 1974, Alex Berger died of lung cancer around the same time Maria lost her mother. The final blow came in 1996 when she lost her beloved son, Enrique. Though their relationship had been turbulent, they had grown close over the years. These losses hit her extremely hard, and she would remain out of the spotlight.


Throughout her career she modeled and became a muse for a number of painters, she was romantically tied to a number of famous figures, she was the inspiration of many writers, and above all, she gained a reputation for her collection of antiques and jewels. Maria gained a love for beautiful jewelry, some of the most recognized are commissioned Cartier pieces, one of two crocodiles and one of a snake.

Maria Felix died peacefully in her sleep on her 88th birthday on April 8, 2002. She left behind a legacy that can never be replicated. There is more to her story than a few captions, we encourage you to read about her, watch her movies which are widely available on the internet.

_______________________________________________
We are able to continue storytelling and bringing you thoughtful content with your purchase on www.cadenacollective.com. However, if you wish to support our storytelling efforts feel free to donate directly to our small business.